pipe or pipe/digital organs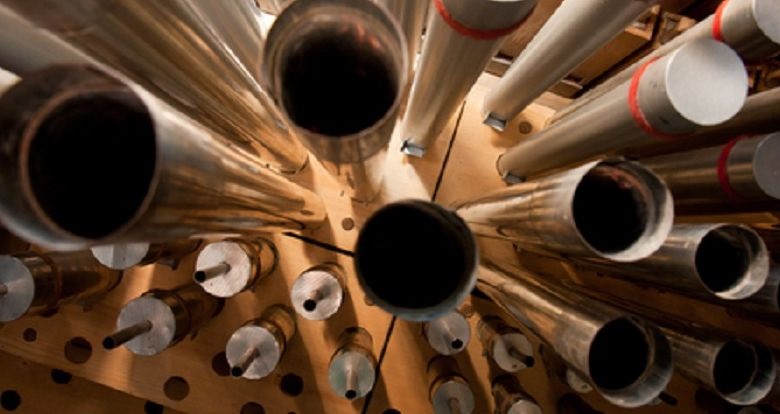 Please click on logos for a link to each builder, when available.
Andover Organ Company
---
Andover Organ Company
PO Box 36
Methuen, MA 01844

Founded in 1948, as the result of the Organ Reform Movement, Andover has played a pivotal role in the preservation of 19th Century American organs and in the construction of historically informed new instruments which inspire players and listeners. In 1959 Andover built one of the first new tracker organs by a US firm since the 1930s. In 1964 they carried out the world's first re-trackerization of an electrified tracker organ.
Go to top
Austin Organs
---
Austin Organs, Inc.
156 Woodland Street
Hartford, CT 06105

Austin Organs, Inc. is a manufacturer of pipe organs based in Hartford, Connecticut. The company is one of the oldest continuously-operating organ manufacturers in the United States.
Go to top
Casavant Frères
---
Casavant Frères
900 Rue Girouard E
Saint-Hyacinthe QC J2S 2Y2

Casavant Frères is a prominent organ building Canadian company in Saint-Hyacinthe, Quebec, which has been building pipe organs since 1879. As of 2014, they have produced over 3900 organs.
Go to top
R.A. Colby
---
R. A. Colby, Inc.
PO Box 4058
Johnson City, TN 37602

Begun in 1974 as an adjunct to a major Pipe Organ Builder, the firm began as a supplier of specialized electrical components to the trade under the name of Kimber-Allen. By 1984, the main focus of the company had become the design and construction of custom components for the pipe organ industry. As a result, the company transitioned to the present name of R.A. Colby.
Go to top
Dobson Pipe Organ Builders
---
Dobson Pipe Organ Builders, LTD.
200 North Illinois Street
PO Box 25
Lake City, Iowa 51449

The company was founded in 1974 by Iowa native Lynn A. Dobson, who serves as President and Artistic Director. The company has produced over 90 new instruments. It has also restored a number of historic organs, and tunes and maintains a variety of instruments in the upper Midwest. First known for the construction of mechanical action organs, the company has since the 1990s also undertaken the construction of organs with electric actions, most employing slider windchests.
Go to top
Randall Dyer & Associates
---
Randall Dyer & Assoc., Inc.
PO Box 489
Jefferson City, TN 37760

Located in Jefferson City, Tennessee, about 25 miles east of Knoxville, Dyer specializes in the high quality construction of electric-action pipe organs, and in selective rebuilding of existing instruments.
Go to top
Erben
---
The country's most prestigious churches, as well as most cathedrals built in the United States during the 1840s and 1850s, boasted large Erben organs. Yet Henry Erben also had a significant market among rural congregations, providing small, one manual instruments built to same, exacting standards as his large organs. (1827-c.1875)
Go to top
Felgemaker Organ Company
---
The Felgemaker Organ Company was a manufacturer of pipe organs based out of Erie, Pennsylvania in the late 19th and early 20th centuries. It was founded in Buffalo, New York in 1865 but relocated to Erie, Pennsylvania. (1875-1918)
Go to top
Flentrop
---
Flentrop Orgelbouw
Westzijde 57, NL 1506
EC Zaandam
NETHERLANDS

Flentrop is a Dutch company based in Zaandam that was established in 1903 by Hendrik Wicher Flentrop.
Go to top
Fritzsche Organ Co
---
Fritsche Organ Co. Inc. is now
Emery Brothers
505 E. Emmaus Ave.
Allentown, PA 18103

The Fritzsche Organ Co. was one of, if not the oldest continuing organ businesses in the country dating back to 1859. In 2002 Emery Brothers, Inc. acquired the Fritzsche Organ Company.
Go to top
Gress-Miles Organ Co.
---
A partnership of George Edgar Gress and Roger H. Miles in Princeton, NJ; the firm began operations in 1959 and closed late 1990.
Go to top
E. & G. G. Hook
---
The firm of E. & G. G. Hook was established by brothers Elias Hook and George G. Hook in Salem, Massachusetts, in 1827; they relocated to Boston, Massachusetts, in 1831. The Hook brothers had been cabinet makers who apprenticed with the organ builder William Goodrich prior to opening their own shop. By 1860, the firm was the largest organ builder in the United States. The firm was producing roughly twenty organs per year prior to stopping production during the Civil War. Production resumed in 1864, and reached its former level the same year.
Go to top
Hook & Hastings
---
The original firm was established by Elias and George G. Hook in Salem, Massachusetts, in 1827 as E. & G. G. Hook; they relocated to Boston, Massachusetts, in 1831. The firm became E. & G. G. Hook & Hastings in 1872 as Elias Hook and George G. Hook took Frank Hastings as a full partner; after the Hook brothers retired, the firm was headed by Hastings. In 1881, Hastings shortened the name to Hook & Hastings. Hastings relocated to Kendal Green, Massachusetts, in 1889; where he built not only a new factory, but housing for his workers in a bid to create a utopian community. The firm was incorporated in 1895; it closed in 1935.
Go to top
Jackson
---
The oldest organ in South Carolina is apparently in Liberty Hill Presbyterian in Kershaw County. James Jackson, organbuilder, immigrated to U.S.from England in 1820. His son Samuel P. Jackson became well known as organbuilder, organist, music editor and teacher in New York City.
Go to top
Jardine
---
The business was founded near Preston in 1780 by James Davis and later transferred to London by James and his brother David. They ran the business until 1822.
Go to top
Kegg Pipe Organ Builders
---
Kegg Pipe Organ Builders
1184 Woodland St. SW
Hartville, Ohio 44632

Kegg Pipe Organ Builders is located in Hartville, Ohio which is in the Northeast part of the state, close to Canton. It was establish in 1985 by Charles Kegg.
Go to top
Labagh & Kemp
---
Labagh & Kemp was in business in New York City, New York, from 1872 until 1892.
Go to top
Lee Organ
---
Lee Organ operated in Knoxville TN from 1975 until the 1990s.
Go to top
Lewtak Pipe Organ Builders
---
Lewtak Pipe Organ Builders, Inc.
211 Parsley Lane
Mocksville, NC 27028

A firm started in 2001 in the central New York area by Tom Lewtak. The firm later moved to North Carolina and is fortunate to have a shop which would be a dream of any organbuilder - a generous 15,000 square feet of clean space filled with natural light and located on 15 acres of unspoiled North Carolina countryside. The building is divided into four departments: woodworking, finishing, pipe handling and organ assembly. They are proud of the fact that the shop is environmentally green. The heat, AC and hot water system uses geothermal technology, entire building is heavily insulated with open-cell spray foam, and there is not a single regular or fluorescent light bulb anywhere in the shop - only LEDs!
Go to top
Lincoln Pipe Organs, Inc. (Formerly John Dower Organ Co.)
---
Lincoln Pipe Organs, Inc. (Formerly John Dower Organ Co.)
309 East Church St.
Lincolnton, NC 28092

Thirty years ago John Dower started a small company in the heart of the North Carolina Piedmont, dedicated to the idea that every church musician's efforts should be assisted by a beautiful and reliable instrument and focused on providing superior service and value. Today this firm has grown to cover a five state region and become Lincoln Pipe Organs, Inc.
Go to top
M. P. Möller Pipe Organ Co
---
Mathias Peter Møller, commonly known as M.P. Möller, was a prolific pipe-organ builder and businessman. A native of the Danish island of Bornholm, he emigrated to the United States in 1872 and founded the M.P. Möller Pipe Organ Company in Greencastle, Pennsylvania, in 1875. The city of Hagerstown, Maryland, took notice of Möller's early successes and induced him to move his business there in 1881 to help make it a viable business center in Western Maryland. The company remained in business until 1992, with hundreds of employees at its peak and a lifetime production of over 12,000 instruments.
Go to top
Peragallo Pipe Organ Company
---
Peragallo Organ Co.
306 Buffalo Ave.
Paterson, NJ 07503

The Peragallo Pipe Organ Company of Paterson, New Jersey was founded in 1918 by John Peragallo, Sr, who, prior to founding the company, apprenticed with the E.M. Skinner Organ Company (now Aeolian-Skinner). The company builds, tunes, and repairs pipe organs, and is notable for being the curator of the organ at St. Patrick's Cathedral, New York.
Go to top
Petty-Madden
---
Petty-Madden was a partnership of Bynum Petty and Bruce Madden in Hopewell, New Jersey from 1978-3:23 PM 8/30/20181989.
Go to top
Reuter Organ Company
---
The Reuter Organ Co.
1220 Timberedge Road
Lawrence, KS 66049

Founded by Adolph Reuter in 1880, the firm is currently located in Lawrence, KS.
Go to top
Schantz Organ Company
---
Schantz Organ Co.
PO Box 156
626 South Walnut St.
Orrville, OH 44667

The Schantz Organ Company was founded in 1873 by A.J. Tschantz (later changed to Schantz). Combining his inventive skills with a love of music, Schantz began building pipe organs after a brief venture into the construction of reed (parlor) organs.
Go to top
Schlaudecker/Chicago Pipe Organ Co.
---
(1880-1884) (see Lincoln)
Go to top
A. E. Schlueter Pipe Organ Company
---
A. E. Schlueter Pipe Organ Company
PO Box 838
Lithonia GA 30058

In 1973, the company was founded by Arthur E. Schlueter, Jr. to sell and service the finest pipe organs, emphasizing quality and value. "Soli Deo Gloria" (to God alone be the glory) was incorporated in the company seal to indicate the Christian roots and principals in which the company was founded. To provide the highest quality, the firm manufactures all of the major components and assemblies used in the building of instruments, organ additions, consoles, and organ cases.
Go to top
Schlicker Organ Company
---
The Schlicker Organ Company was founded in 1930 by Herman L. Schlicker, a third generation builder, who apprenticed with firms in Germany, France and Denmark before emigrating to America in the late 1920's.
Go to top
Steiner-Reck Organbuilders
---
This firm began operations in Louisville, Kentucky, in 1957.
Go to top
Tellers Organ Company
---
Tellers Organ Company was a manufacturer of pipe organs in Erie, Pennsylvania. From 1906 to 1973, the company produced over 1,100 organs throughout the United States and Puerto Rico.
Go to top
Wicks Organ Company
---
Wicks Organ Co.
1100 5th Street
Highland, IL 62249

The Wicks Organ Company was founded by Adolph Wick, John F. Wick, and Louis Wick in the early 1900s at their jewelry and watch making store in Highland, Illinois. A local priest asked John Wick to study organ. He studied organ at St. Louis University, St. Louis, Missouri and then became the church organist. The church later decided to replace an old reed organ with a pipe organ. The brothers utilized their skills in watch making, cabinet making, and jewelry to construct a small, two manual and pedal, mechanical action pipe organ for the church.
Go to top
W. Zimmer & Sons
---
W Zimmer & Sons was established by Wilhelm Zimmer and his sons Ben A., Sr. and Franz J. Zimmer in Charlotte, NC, in 1964.
Go to top
Cornel Zimmer Organ Builders
---
Cornel Zimmer Organ Builders
PO Box 2309
731 Crosspoint Dr.
Denver, NC 28037

Cornel Zimmer is a fourth generation organbuilder, he worked with the family firm, W. Zimmer & Sons of Charlotte, North Carolina. In 1992, Cornel set out on his own and established Cornel Zimmer Organ Builders of Denver, North Carolina.
Go to top
HYBRID ORGANS
Significant to an increasing number of late 20th and early 21st century organs is the combination of real pipes and digital sounds. In some cases digital techniques provide sounds at 32' and 16' levels in places where there is no space for pipes of that size. In other cases, more numerous combinations of pipe and digital sounds are achieved through digital companies. There are three such companies represented in this documentation.
Allen Organ Company
---
Allen Organ Company, LLC
150 Locust Street
Macungie, PA 18062

The Allen Organ Company builds church organs, home organs and theatre organs. Its factory is located in Macungie, Pennsylvania.
Go to top
Rodgers
---
Rodgers Instruments - Contact through
R. A. Daffer Church Organs, Inc.
10545 Guilford Road, Suite 106, Jessup, MD 20794
Al Murrell, Vice President

Two visionary engineers and organ enthusiasts, Rodgers Jenkins and Fred Tinker, originally founded Rodgers Church Organs in 1958. The company's focus was helping make the transformational power of the American organ more accessible to churches, colleges, performance centers, and players by embracing advancements in technology.
Go to top
Walker Technical Company
---
Walker Technical Company
6610 Crown Lane
Zionsville PA 18092

Formed in 1973, Walker Technical Company continues to be a recognized leader in digital reproduction of sound and control systems for the music industry.
Go to top